The traditional business model equates production costs with revenues and therefore measures success based on the profits created. In doing so, most business models neglect their external costs of production. These are costs that relate to pollution or other forms of destruction and are often not accounted for. Business models that do not account for these external costs of production, likely run risk of market failure in the long term. A consequence is that neither business, nor planet, nor consumer will benefit in the future.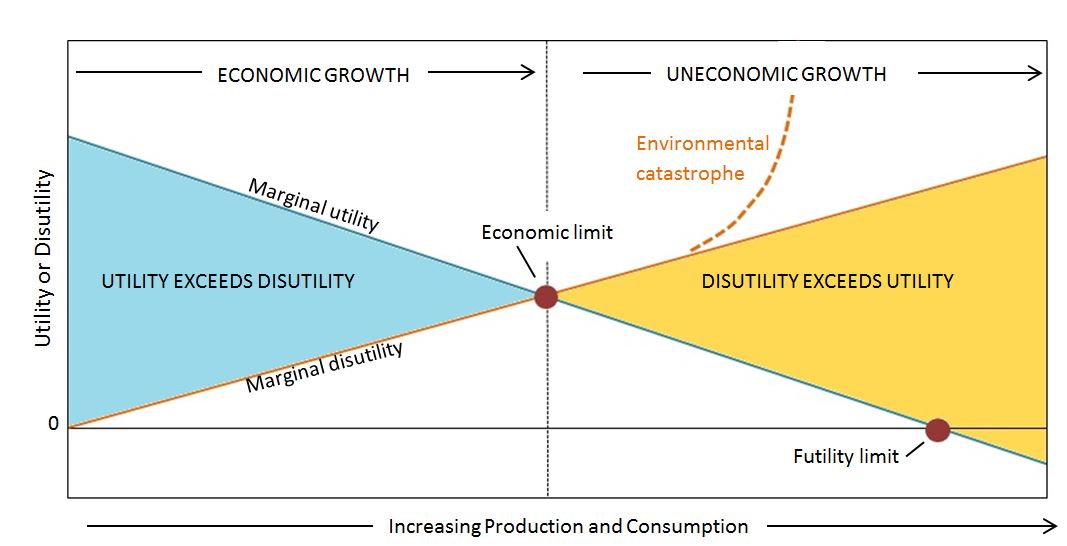 Increases in production come at an expense of
resources and well-being that is worth
more than the products produced. It also
implies that an undesirable balance of
quantities known as utility and disutility
occur. Utility is the level of satisfaction of the population's needs and wants. Disutility refers to the sacrifices made necessary by increasing production and consumption, such as labor, loss of leisure, depletion of resources, exposure to pollution (Daly, 1990)
External cost of consumption?
Climate change and also climate awarness have been increasing steadily, particular since Fridays for Future. "We must act now, our planet is on fire, system change is needed" are some of the phrases that cover media. While these phrases demand companies, governments to change systems, they externalize individual repsonsibility and hence individual and collective cost of consumption. These are cost produced because of a (subconcious) desire for consumption and lifestyle choices. Because of that system change as demanded now, misses a sustainable point of view. That is a view in which "external cost of consumption" need to be internalized by consumers.
How can external costs of production be internalized?
Businesses can transition towards more sustainable business models and because of that reduce their external costs of production. That can happen if unsustainable materials are swopped with more sustainable materials (think about a plastic straw being swapped with a bamboo straw), if a company promotes the re-use of products or offers recycling opportunities (and so much more). However, swopping one thing with the other, or continue producing at the same speed, does not necessarily lead to more sustainable business models. Instead current production problems shift to other production processes. Because of that, long term business sustainabiltiy might fail.
For sustainable business models to take place in the long term, the role of consumers, the way they engage, behave and hence, want to purchase or not and how needs to change as well.
What are external costs of consumption and how can they be internalized?
Humans aren't static. Humans like other species evolve and adjust to changes. "Survival of the fittest" – in evolutionary terms. If adoption does not occur, the survival of a species is at risk. To adopt and to change, we adjust, we make ourselves appeal to others by creating images, to become part of a group, to subconciously influence our own survival. However, much of such behaviours , think about dressing a certain way, or looking a certain way to be accepted by a group, does not relate to survival anymore – it is instinctional and therefore (unconciously) culturally influenced. Such behaviours therefore stimulate external costs of consumption [Evolutionary desire for change and adaptation, while such a change and adaptation is not need but rather socially constructed path-dependent]
External costs of consumption can hence be internalized, if individual and collective awarness increases towards unconcious behaviour and lifestyles. Where does a constant desire for changes deprive from? What purpose does a change fullfill? Who is this change done for? Who does one desire to desire back and because of that adjust towards a certain lifestyle , look or behaviour and therefore changes? What meaning do changes in choices have? Where should subconcious evolutionary need for change and adoptation stop? Where is the point of maximum utility for happiness reached and hence, the possibility to create an equilibrium between internalized external costs of consumption and production?
References
Campbell, A. (2000). Cultural identity as a social construct. Intercultural Education, 11(1), 31-39.
Graham, C. (2005). The economics of happiness. World economics, 6(3), 41-55.
Harte, M. J. (1995). Ecology, sustainability, and environment as capital. Ecological economics, 15(2), 157-164.
Hedman, J., & Kalling, T. (2003). The business model concept: theoretical underpinnings and empirical illustrations. European journal of information systems, 12(1), 49-59.
Hollan, D. (2000). Constructivist models of mind, contemporary psychoanalysis, and the development of culture theory. American Anthropologist, 102(3), 538-550.
Lüdeke-Freund, F., Carroux, S., Joyce, A., Massa, L., & Breuer, H. (2018). The sustainable business model pattern taxonomy—45 patterns to support sustainability-oriented business model innovation. Sustainable Production and Consumption, 15, 145-162.
Thompson, S. A., & Loveland, J. M. (2015). Integrating identity and consumption: An identity investment theory. Journal of Marketing Theory and Practice, 23(3), 235-253.